Stimio keeps IoT monitoring on track for high-value rail and utility assets with Quectel GNSS and cellular modules.
Stimio, the developer of a complete, wireless-based, end-to-end Industrial IoT solution for demanding markets such as railway and utilities, has selected the LC29D GNSS module and the BG95-M5 cellular modules and antennas from Quectel Wireless Solutions. Stimio, which is headquartered in Nantes, France, accelerates the digitalization of assets thanks to its open Oxygen Application Studio. By utilizing the studio, assets become data points and applications and services are used to enable predictive, prescriptive maintenance and optimized business operations.
Quectel solutions will be used in Stimio's IoT sensors and gateways for the remote monitoring of high-value assets such as railway infrastructure and rolling stock, and utility equipment. Deployed in Europe and North America, the modules will enable collection of real-time data on operating conditions, to extend the lifetime of systems thus reducing lifecycle costs. Connectivity increases visibility into potential future failures and enables predictive maintenance, minimizing costs and improving service availability for rail and utility providers. The modules were selected because they offer easy implementation with wireless, autonomous, cable-free and non-intrusive IoT devices.
Oxygen Asset Management

From device management to visualisation and prediction, Oxygen Asset Management unlocks data's potential and turn them into intelligent and actionable information.
Lean more →
---
Railnode
Railnode is Stimio's certified rail solution for collecting data and delivering them to Oxygen and business information systems.
Learn more →
---
Railnet
Railnet is our rail certified gateway to connect sensors and on-board equipment for rolling stock, already in operation or new ones.
Learn more →
---
Let's talk about your concerns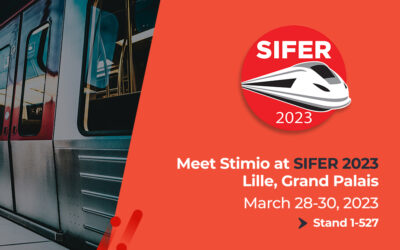 July, 10th 2023STIMIO is now STIMIO by CBMCBM Company a acquis la société Stimio en juillet 2023. CBM est une entreprise française de fabrication de pièces détachées automobiles. Créée en 1976 par le Groupe Verney, sous le nom de Cars & Bus Le Mans, l'entreprise...