Stimio introduces its new stim track solutions integrated with here tracking services

At

SIDO

2019, Stimio will unveil the latest evolutions of STIM-TRACK, its modular semi-specific hardware platform dedicated to Track & Trace functions, and using the HERE tracking solution as a software platform for data analysis and management.
Modular Application Platform
A year ago, Stimio introduced STIM-MOD, a platform combining hardware and embedded software. This approach and Stimio's tools make it possible to develop tailor-made solutions, while maintaining very short development cycles.
On this modular basis, Stimio has developed the MAP (Modular Application Platform) concept to offer targeted business solutions that meet customers' needs and constraints. The objective is to allow a perfect adaptation of hardware resources to application needs while accelerating software development.
STIM-TRACK consists of a range of Hardware platforms (STIM-TRACK Light for first level monitoring, STIM-TRACK Accuracy for precise indoor and outdoor geolocation and STIM-TRACK Universal which covers complex use cases) which are configurable and / or adaptable according to customer needs.
Thus STIM-TRACK covers multiple use cases for tracking assets, their conditions of transport and use. By supporting multiple short and long distance radio protocols, with a wide range of proven sensors, both generic and specific use cases of Track & Trace are covered.
"The market for tracking assets and transport conditions is booming, affecting countless use cases in almost all industrial fields. We are convinced that our solutions perfectly meet the needs of each client, which requires customization to deliver a solution adapted to its environment, its constraints of price, autonomy and robustness ", declares David Dorval, president of Stimio.
Collaboration with HERE Technologies, world leader in mapping and geolocation services
The success of IoT projects requires the combination of several experiences and know-how: Objects, telecom, cloud, etc. It is on this conviction that STIMIO builds partnerships with recognized leaders in their fields of expertise.
"We are very happy to collaborate with HERE Technologies. Their solutions combined with STIM-TRACK make it possible to provide our customers with modular geolocation services optimized in power consumption, indoor and outdoor, with levels of precision established according to customer needs ", explains David Dorval.
Thanks to the integration of Stimio and HERE technologies, companies in the world of Supply Chain and asset tracking benefit from a complete solution, including a fully integrated mapping combining the Indoor (sites and buildings) and the Outdoor , geolocation services providing the highest levels of accuracy and global coverage, trackers, a back-end capable of ingesting information from terminals, as well as solutions to make the right decisions based on the information transmitted
Let's talk about your concerns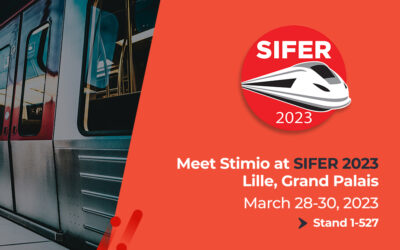 July, 10th 2023STIMIO is now STIMIO by CBMCBM Company a acquis la société Stimio en juillet 2023. CBM est une entreprise française de fabrication de pièces détachées automobiles. Créée en 1976 par le Groupe Verney, sous le nom de Cars & Bus Le Mans, l'entreprise...